---
FROM WET HAIR TO PERFECT HAIR UNDER 10 MINUTES!

Our Incredible Hair Dryer and Volumizer is dedicated to helping women achieve beautiful hair that they'll love! Whether women desire gorgeous blowouts, big enviable waves, striking straight locks, or the perfect fashion accessory to complete the look, we had the styling tools you desire.
FROM WET HAIR TO PERFECT HAIR IN 10 MINUTES!
FROM WET HAIR TO PERFECT HAIR IN 10 MINUTES!
FROM WET HAIR TO PERFECT HAIR IN 10 MINUTES!
The Incredible Hair Dryer and Volumizer makes styling hair effortless, with the use of tourmaline technology your hair will not only be volumized but protected against heat damage. Easy to use, and suitable for all hair types. You won't want to go back to a regular hair brush!

LESS TIME, LESS DAMAGE
Dries and volumizes in on step for less heat damage and beautiful full bodies results.The unique oval brush design quickly creates volume at the root and beautifully full-bodied curls at the ends in a single pass, for salon blowouts at home.
IONIC TECHNOLOGY
Negative ions saturate the airflow to reduce the size of water droplets for faster drying. This helps condition, smooth and make hair shinier, while reducing frizz and static.
Features: 
🎁【ONE STEP HAIR DRYER & STYLER & VOLUMIZER】 You can make your hair light, anti-tangle, bringing silky shine and texture with this hair dryer brush instead of blow dryer and comb,straighten and then curling iron.Save 1/2 of your time.

🎁【EFFICIENT AND ASSURED IONIC TECHNOLOGY】 Negative Ionic technology reduces the build-up of static electricity in the hair, along with tangle-free antistatic bristles, completely eliminates frizz,smooth, soft, shiny-looking hair for silky smooth hair.

🎁【UNIQUE OVAL BRUSH DESIGN】 Its unique oval brush design is ideal for smoothing your hair while round edges create smooth volume and curled ends. Compatible for all hair types.Unlike conventional hair dryers, this brush can be placed closer to the scalp for lift.

🎁【ADJUSTABLE TEMPERATURE HAIR DRYER】 With 3 temperature and 3 speed setting for flexible styling, it is apt to regularly use for all hair type, straight/short/wavy/wet.

➣ LOW-Low heat, high air speed. For finer and more precise control when styling. ➣ MIDDLE-Warm temperature, low air speed. Used at the end to set the hairstyle. ➣ HIGH-Hot temperature, high air speed. For rough drying for thicker hair. So you will hear the sound of low setting is the same as the high setting, which is normal.

🎁【TRAVEL-FRIENDLY】 Lightweight design hair styler with an ergonomic and non-slip handle for comfortable use.being compact, lightweight and extremely easy to use, this travel hair dryer travels with you. Ideal for home use, traveling, holidays, and even the office. This product has obtained the Australia/New Zealand Electrical Equipment Safety System certification, please rest assured to use.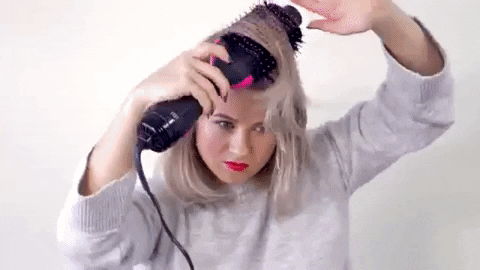 STYLING TIPS
Step 1:

 For Faster results, towel dry hair to remove excess water, then run a comb through a damp to detangle for best results.

Step 2: 

Separate hair into manageable sections.

Step 3: 

For Smooth Blowouts, place the volumizer close to the roots and brush down toward the ends.

Step 4: 

For Voluminous blowouts, place the volumizer under the hair close to the roots and roll outward to the ends. For Extra lift at the roots, hold the volumizer for 2-3 seconds under the roots.

Step 5: 

To curl ends IN, place the volumizer under the ends and hold for 2-3 seconds before rotating inward. To curl ends OUT, place the volumizer OVER the ends and hold for 2-3 seconds before rotating outward.
QUESTIONS & ANSWERS:
Question: Is this just for curls and or can you straighten as well?
Answer:   The Incredible Hair Dryer & Volumizer is for smoother look. 
Question: What is the wattage?
Answer:  Wattage is 1000W Power
Question: Does it work on short hair?
Answer: Who has shoulder length hair says that it dries pretty quickly. They love this dryer! 
Question: How big is the barrel of this brush?
Answer:   It is around 2 to 3 inches. It is oval shaped not round. 
Specifications

Wattage: 1000W power

Voltage: 230-240V / 50Hz

Power Cord: 2.0m

Weight: 649g
GUARANTEED- If something is wrong with your order, you can quickly contact our helpful customer support team to get a refund.